About Us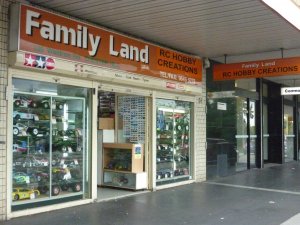 Please select your order carefully. We do not accept returns, refunds or exchanges except if a product is faulty, incorrect or damaged.
You can ask for our assistance before ordering.
- All products are warrantied by the manufacturers or distributors.
- All prices include G.S.T and handling fees.
- Over-size packages (such as airplane models) are only delivered domestically.
- Nitro fuel and methanol are only available and delivered in NSW.
- Flammable products (such as lipo batteries) are only delivered throughout Australia by road service.
- All delivery is done by Australia Post or Fast Way, with tracking number and insurance if possible.
Trading hours:
Open: Monday to Saturday from 9AM to 7PM
Closed: Every Sunday, Christmas Day, Boxing Day, 1st New Year Day

We are located at:
136 Waldron Road
Chester Hill
NSW 2162 Australia
Phone: 61 2 96455279
ABN Number: 31387541900
Contact us:
Email: info@familyland.com.au
Please note: You can search for general parts (such as screws, nuts, E-clip, O-ring, washers, shim, couplers, deflectors, tools, body clips, servo horns, propellers, manifold, mufflers, pull starts, spoilers, bodies, clutch shoes, clutch bells, engine nuts and fly wheels) by filtering for the manufacturer with a starting letter (A,B,C...).

All products can be found by searching through our categories or the SEARCH bar which requires a part number or part name or size or discription starting with quotes as 'engine mount' , 'clutch shoe' , 'back plate'